I adore it when my little Sugar Bear is a goof ball. I have always called her "my little ham sandwich". She cracks me up all the time. I love that we spend a great deal of our time together laughing. Last night we got to finally bring her Dance Recital costume home with us, as the recital is this weekend. My girl just couldn't resist the opportunity to put her TUTU on her head and be silly. She got plenty of looks, and lots of smiles and giggles as we walked out the door.
Now, I wouldnt' be Corey if I didn't ask my girl to stand still for a few shots. It's a darn good thing I have my camera on me at ALL times, yes? I nabbed several shots, but this one was one of my favorites. I love her sweet smile, and how she is looking right at me.
Cute, yes? But look at this next one. I mean seriously people, how could I not use this a my Fabulous Friday shot? Look at my girl.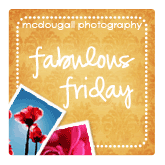 Where did this grown up beauty come from???? Wowza! I love the intensity of her stare. sigh....so glad I didn't miss this opportunity to capture a bit of my girl.