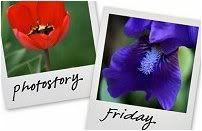 Hosted by Cecily and MamaGeek
There are simply not enough words to adequately describe the fierce emotion that comes along with being a parent. I vividly recall a moment during my pregnancy with Sugar Bear, when a friend, who happens to be a mother of 7, said to me, "I wish I could help you understand just what it will be like, but I can't wait for you to find out." I thought I knew.......I DIDN'T!

I can not describe the depth of my love for my child. I can only feel it's intense emotion, and look to other mothers with knowing eyes. There have been times when I have attempted to put
my thoughts into words
, and I think other parents reading it can relate. Certainly not all, though.

Recently, someone said to me, "I just don't understand when other parents say, 'my child is the light of my life!' I mean seriously?.....seriously?.....are they kidding me? Am I the only parent whose life is HELL now that they have kids?" This statement surprised me, and quite honestly made my heart hurt for this person. How could he not get it? I truly thought is was something all parents felt? Don't all parents feel as if their deep love
might never be fully understood by their children?

Like their own heart would literally be torn from their chest if harm were to come to their child?

Late last week, I posted about
the slew of bad news flooding into the life of my friends
. While all cases of suffering were fresh in my mind as I journeyed through my days this week, I feel compelled to ask for many more prayers for my co-worker. Her 13 year old daughter, Michelle tragically fell from the hay truck last week, and suffered severe head trauma. She has fought through two surgeries, and is currently on life support, and in a coma. She is suffering from a high fever, and things are very grim.

My heart is aching for this family. I simply can not imagine their emotions throughout this devastating ordeal. As a mother, I am unable to even fathom this sort of pain. I know that the family would appreciate any and all positive thoughts, and prayers.

Tonight, as I skimmed through old photos, I found this one among a group from last August that I haven't edited yet. I am uncertain as to why exactly, but photos like this illicit so much emotion in me. I can't help but stare at it.......and thank the Lord for every little hair on her head.