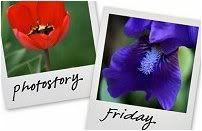 Hosted by Cecily and MamaGeek
For the past 25+ years, my parents have had chickens. Well....hens actually. At any one time, there are usually 10-14 hens living on their farm. It is a wonderful source of farm fresh eggs. I have grown VERY accustom to the quality and QUANTITY of the eggs they provide. My dad doesn't eat eggs, and my mom mostly uses them when baking, so there is simply NO way they can go through the nearly dozen eggs a day that are laid on their farm. My brother and I have picked up the slack. We are thrilled to take home many many many eggs each time we visit.

When Sugar Bear came along, she quickly fell in love with these creatures.
She is a true chicken chaser
, and loves to help gather the eggs. She is a cute little helper like that. While browsing through some old unedited photos, I stumbled upon this sweet photo of Sugar Bear carrying some eggs back to the house last summer. Sigh...look at how much she has changed this year. Where is my baby girl???? Look at those cheeks! YUM!

Last December, some sort of animal discovered the hens,and mysteriously managed to killed each and every one of them within a period of 5 days. It was a sad, sad thing. Sugar was so disappointed when we next went to the farm and the chickens were gone. I explained to her that a very hungry animal had ate them, and that just happens sometimes. We discussed further that in the spring, grandma would buy some baby chicks, and they would grow into big chickens, and start laying eggs. It was a LONG wait. We had NO eggs. I actually had to buy eggs...and have you seen the price of eggs???? eeekkkkk....mama no likey!

Spring came.....and grandma picked out 12 lovely chicks. Sugar loved them...a lot, and I do mean
A LOT!!!!!
Unfortunately.....when the chicks were old enough to go into the big pen.....within days, something had managed to lift the sheet metal, and kill all but one. This was a hard thing to tell the Sugar, but she rallied and just told Papa that he needed to build a better pen. Luckily, my parents were able to find a very late hatching of chicks, and got 12 more. Meanwhile....NO EGGS. sigh...For father's day, I gave my dad a large live trap. He has since captured two raccoons, and gave them new homes FAR away. We are hoping this solves the problem.

The other day, while visiting the farm, Papa surprised Sugar with the very first egg. Wish I had my camera there to document the occasion, but I didn't. I'll just look at this old photo, and imagine a huge smile on her face. I have to admit....I'm a bit giddy myself. Soon, I'll be rolling in some eggs. YAHOO!!!!