Theme of the week:
When I saw this theme, I immediately knew I needed a shot of myself at work, but wasn't sure what I wanted to be doing in the shot. I tried several different things, and had a really challenging time getting the focus right. I really need to get a new camera remote. It is nearly impossible to get good focus when you set up a scene, press the timer, run to your place and wait for the camera to shoot. ugh....a remote works so much better as you are already in the scene for the camera to focus on.
ANYHOW, (man I can get off on a tangent) I tried to look like I was working in several of the shots, but it always looked contrived, so I finally settled on pretending to nap at my desk. I figure this shows what I'd like to be doing....instead of what I should be doing. Often I am so very tired at work because I stayed up entirely too late reading. Right about 2pm, I get the yawns, and can hardly keep my eyes open. When I was pregnant, I'd actually just lay my head down like this and sleep. :) It was cute then.....but now, I think my boss would not see how cute it is. :)
For kicks, I converted this shot as well, but I wasn't sure which one I liked best. I think the color shot shows more clearly the chaos around me, which is very much a part of my daily life. I am messy at work. I am type A about a lot of things....but not about my desk. The black and white shot looks more peaceful I think.
Which one do you like better?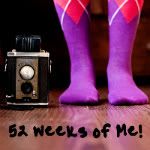 Be sure to head on over to visit Jessie and Cara to see all the fabulous ladies taking part in this cool project.